The Private Institute for Climate Change Research, ICC, has a very qualified team of professionals, who commit their passion and dedication to perform research, activities and projects that our institution promotes in the Pacific Slope of Guatemala, from the volcanoes to the mangroves.
Our professionals are distributed in five programs where in attached to our vision and mission, fulfill the objectives of the ICC.
Vision
To be a leading private institution for research and project development to mitigate and adapt to climate change in communities, productive processes and region's infrastructure.
Mission Statement
To create and promote actions that facilitate climate change mitigation and adaptation in the region based on technical and scientific guidelines as well as economic feasibility.
Main areas of Work
Hydrometeorological Information
Flood Research and Management
Greenhouse Gases
Environmental Management
Protection and Restoration of Forests and Soil
Integrated Water Management
Adaptation Practices
Capacity Building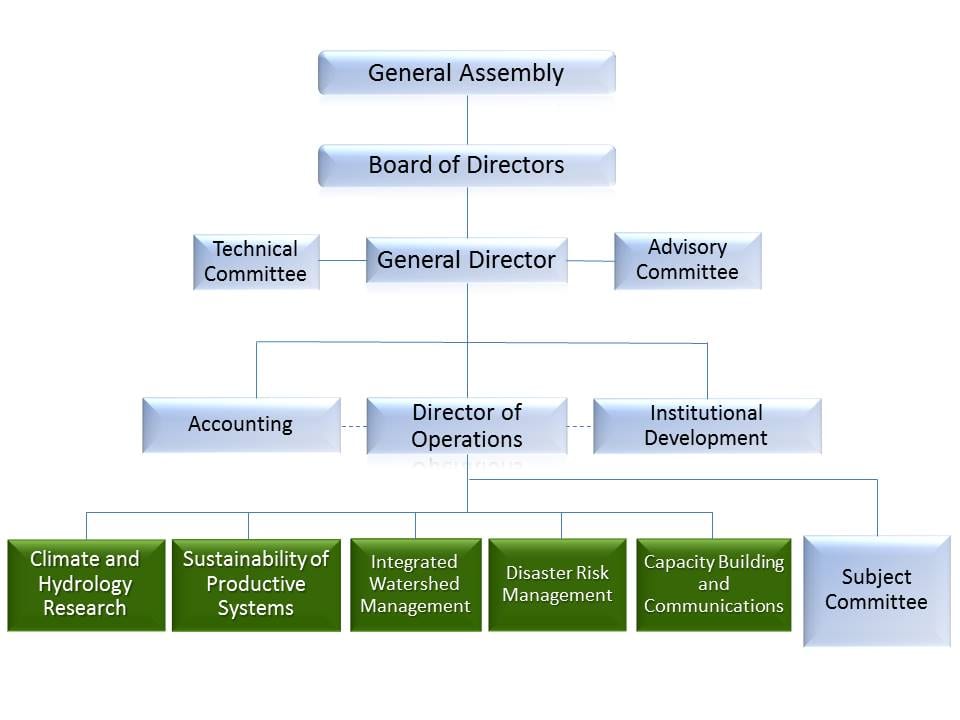 The team of the Private Institute for Climate Change Research, ICC, is composed by:
General Director
Operations' Director
Five Program Coordinators
Administrative staff
Technical staff and field staff
Who are detailed as follows.
Chief Accountant
Accountant assitants
MBA. Silvia Castillo Orrego
P. C. Rocío Ocaña
P. C. Leonardo Cifuentes
P. C. Estuardo González
Sergio Ajpop López
Conrado Gámez Rivera
Romelia de Jesús Barrios
Silvia Margarita Coyán Chamo
Lizgi Abel Pinzón Donis
Dario Guarchaj Sac
Daniel Eduardo Hernández Carrera
Ramiro Hernández Cante
José Raúl Sabán García
Robin Roberto Quiñonez Valladares
Dennis Roberto Chitic Guajaca
Amner Joel Ortega Corado
Lester Roberto Cayax López
Edgar Giovani Gonzalez Ramírez
Abner Eliseo Girón Hernández
Luis Ricardo Ajpop López
Víctor Manuel Ajpop Vásquez
Sofonías Rodríguez Ramírez
Kimberly Dayana González

María Alejandra Rosales Mayorga
2011 Universidad de San Carlos de Guatemala
______________________________________________________
Marie Andrée Liere Quevedo
2011 Universidad de San Carlos de Guatemala
______________________________________________________
Milton Chán Santisteban (PhD)
2012
______________________________________________________
Elmer Adolfo Orrego León
2012 Universidad de San Carlos de Guatemala
______________________________________________________
Cindy Estrada Montiel
2013 Universidad de San Carlos de Guatemala
______________________________________________________
Alexandre Parizel
2013 AgroParisTech, France
______________________________________________________
Alma Santos Pérez
2013 Universidad de San Carlos de Guatemala
______________________________________________________
Josué Mena Enamorado
2013 Universidad Rafael Landivar
______________________________________________________
Susana Guerra González
2013 Universidad de San Carlos de Guatemala
______________________________________________________
Dora Salpec Palma
2013 Universidad Rafael Landivar
______________________________________________________
Carlos Humberto Rodríguez
2013 Universidad de San Carlos de Guatemala
______________________________________________________
Julio Renato Alarcón Recinos
2013 Universidad de San Carlos de Guatemala
______________________________________________________
Melvin Navarro González
2014 Universidad de San Carlos de Guatemala
______________________________________________________
Allan Caravantes Alvarado
2014 Universidad de San Carlos de Guatemala
______________________________________________________
Elisa Choxom Chamorro
2014 Universidad de San Carlos de Guatemala
______________________________________________________
Cecilia María de León
2014 Universidad de San Carlos de Guatemala
______________________________________________________
Ronal Pérez González
2014 Universidad del Valle de Guatemala
______________________________________________________
Hector Francisco Espinoza Garcia
2015 Tropical Agricultural Research and Higher Education Center, Costa Rica
Francisco Pellecer Aguirre
2015 Universidad de San Carlos de Guatemala
______________________________________________________
José Daniel Girón
2015 Universidad del Valle de Guatemala
______________________________________________________
Myriam Consuelo Escobar Molina
2015 Universidad de San Carlos de Guatemala
______________________________________________________
Erick Alvarado Ortega
2015 Universidad de San Carlos de Guatemala
______________________________________________________
Melany Ramírez Galindo
2015 Universidad de San Carlos de Guatemala
______________________________________________________
Andrea Madelyne Moreno Ortíz
2015 Universidad Rafael Landívar
______________________________________________________
Alejandra Alfaro Pinto
2015 Universidad de San Carlos de Guatemala
______________________________________________________
Nereyda Trabanino Valenzuela
2015 Universidad de San Carlos de Guatemala
______________________________________________________
Kevin Rigoberto Ávila Santos
2016 Universidad de San Carlos de Guatemala
______________________________________________________
Amy Guisela Molina Estrada
2016 Universidad de San Carlos de Guatemala
______________________________________________________
Lucia Nineth Ramirez Cuella
2016 Universidad del Valle de Guatemala
______________________________________________________
Ana Cecilia Iuit Jiménez
2016 El Colegio de la Frontera Sur, Mexico
______________________________________________________
Hernán Turcios Castro
2017 Universidad de San Carlos de Guatemala
______________________________________________________
Ezequiel Riquiac
2017 Universidad de San Carlos de Guatemala
______________________________________________________
Kevin Manolo Noriega
2017 Universidad de San Carlos de Guatemala
______________________________________________________
Carlos Humberto Rodríguez
2017 Tropical Agricultural Research and Higher Education Center, Costa Rica
______________________________________________________
Aurora Castillo Baquera
2018 Universidad de Granada, Spain