Private Institute for Climate Change Research, Guatemala, September 13th, 2018, 14:36 PM. Hurricane season in the Atlantic Ocean started in May of this year and so far, it has had 10 tropical cyclones that have been named, very close to the forecast for tropical cyclones (14) for this 2018.
Tropical cyclones are phenomena that could last from a few hours up to a few weeks or more. Therefore, there could be more than one tropical cyclone at the same time and in the same region. Weather forecasters assign a name to each tropical cyclone from a predetermined list, to easily identify it and not to mistake it with others. The World Weather Organization (WWO) has designated specialized regional weather centers to monitor and name those cyclones.
One out of the four cyclones that are currently active is the Isaac Tropical Storm. This is keeping a trajectory towards the Caribbean Sea, but it is still very far away from Guatemala, and currently it does not represent a threat.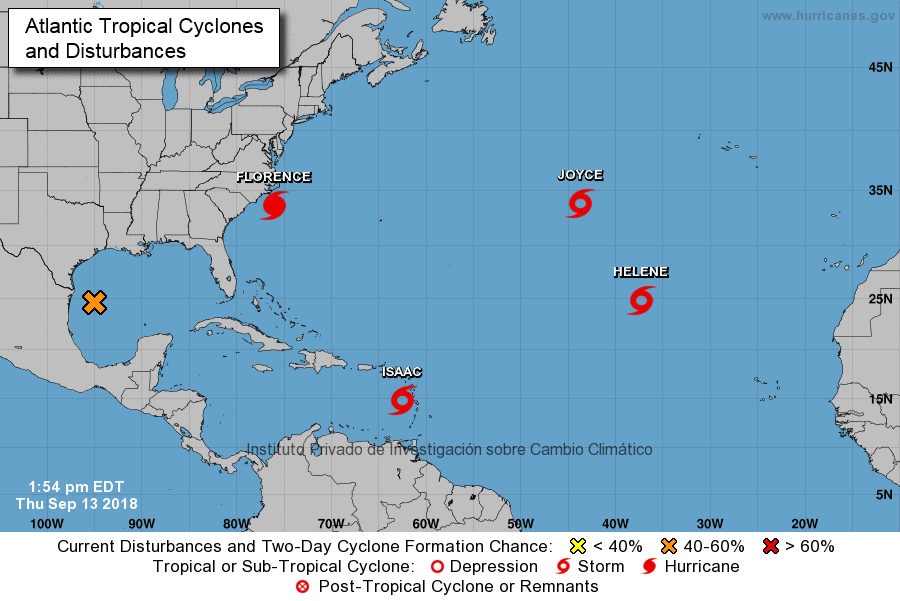 Source: NOAA, 2018.
The hurricanes Florence (category 2), Helene (tropical storm), and Isaac that reached category 1 (downgraded to tropical storm), are currently the strongest cyclones at this time, however, the NHC registers strong probabilities of a cyclone formation, but that does not represent a high risk due to its location, and that is being monitored by Mexico, since it is located in the Gulf of Mexico.
There are 50% of probabilities that clouds and rain showers will form in the Gulf of Mexico, since they are associated to a low pressure system. However, in the upper levels winds are forecast to develop a tropical depression by Thursday of Friday.
As the NHC reports, a non-tropical low pressure area, located several hundreds of miles west-southeast of the Azores (Portuguese islands) are producing a great area of rain showers and thunder storms, as well as hurricane-like winds.
Isaac tropical storm is keeping its trajectory towards the Caribbean Sea and it is expected to get close to Nicaraguan coasts, as the last report from the National Hurricane Center of the United States indicates. Isaac is moving at a speed of 27kmh with winds of 96kmh.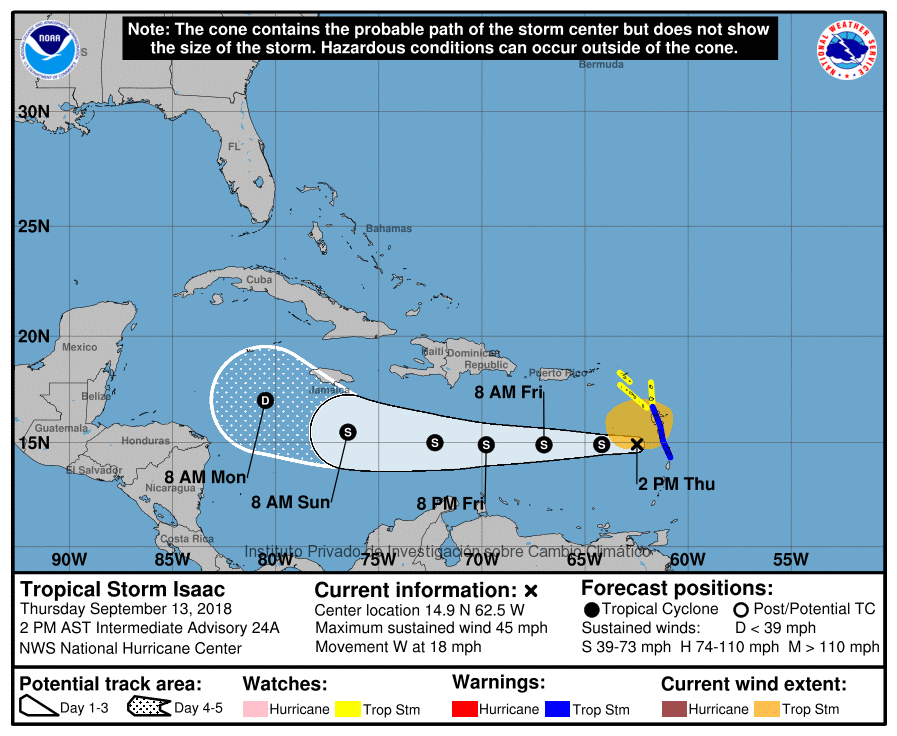 Currently, Isaac is about 3,000 kilometers away from Guatemala.