Private Institute for Climate Change Research, Guatemala. A cold front is expected to influence Guatemala throughout this week, generating rains and wind acceleration in the country.
The frontal system is moving towards the Yucatan peninsula, allowing winds to accelerate from calm to moderate during the week, and allowing light rains in the national territory.
Forecast for the central midlands: Foggy in the morning, from scattered clouds to cloudy during the day with warm temperatures. Light south winds. As of Wednesday winds will change to light north winds. Maximum temperatures: Guatemala City from 27.0 ºC to 29.0ºC, Central and Western Highlands from 25.0 °C to 29.0 ºC. Minimum temperatures for Guatemala City from 14.0° to 16°C, Western Highlands from 3.0°C to 5.0°C.
Forecast for the Pacific regions: Foggy in the early mornings, scattered clouds during the day with warm temperatures and mist, scattered clouds to cloudy in the afternoon with rains and electric activity. South east winds. Maximum temperatures from 34.0 ºC to 36.0 ºC.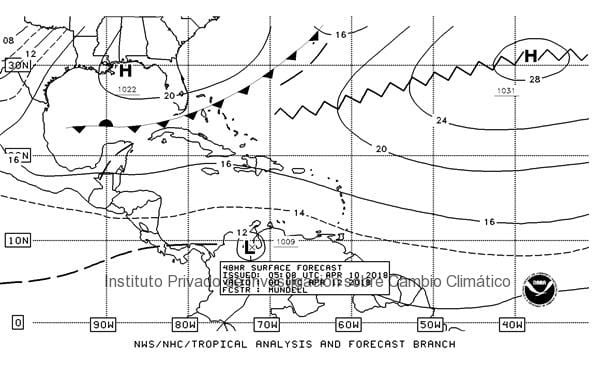 The NOAA'S GFS model shows the cold front (lines with triangles) associated with a high pressure system that will place itself in the coasts of Florida, United States, generating a trough at the north east of Guatemala, generating light rains and wind acceleration. Source: NOAA, 2018.