ICC in El Salvador together  with the "Department of Space Organization (DOE)" of the Central American "Jose Simeón Cañas" University-UCA (Universidad Centroamericana José Simeon Cañas), developed the virtual seminar "Climate Change: regional experiences to improve the resilience and adaptation capacity from municipal actors ".
The seminar was held with the objective of strengthening the capacities of strategic actors to address climate change at the municipal level. Different successful experiences in mitigation and adaptation in Latin America from a municipality perspective were presented.
Participants included speakers from the Argentine Network of Municipalities against Climate Change (RAMCC), the DOE of the UCA, representatives of ICC in El Salvador and Guatemala.
The main topics of the event were:
Soil management and climate change policies in Latin America / Dra. Marielos Marín- UCA.
The climate action work of ICC with municipal actors in Guatemala / Eng. Luis Reyes – ICC.
The Argentine Network of Municipalities against Climate Change: scope and achievements for Latin America / Eng. Ricardo Bertolino – RAMCC.
Challenges and opportunities for municipalities in El Salvador: Discussion, questions and answers / M.Sc. Francisco Soto – ICC.
The event was broadcasted live on YouTube on October 20 of 2020. View the recording (in Spanish) here.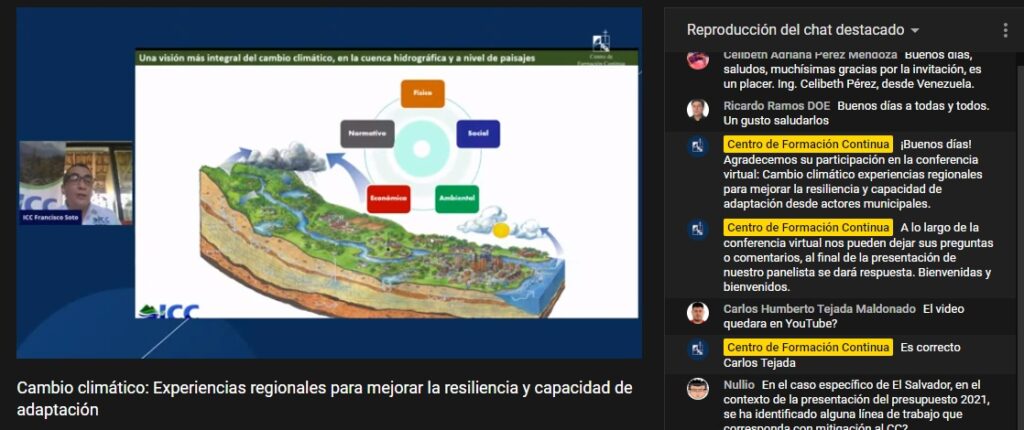 The panellists emphasized the importance of creating partnerships between municipalities and with other actors that help to promote local action.
This is the second activity of a virtual seminar program that the ICC develops together with the UCA in El Salvador. During the next few months, other scheduled topics will include: addressing climate change by the academia, and community-based adaptation.