Private Institute for Climate Change Research, Guatemala. That's right. Today is World Meteorological Day, that is observed on March 23rd. As ICC, we installed and started operations with our new weather station, the 28th, and it is located in Chiquimulilla, Santa Rosa. This was accomplished along Santa Ana Sugar Mill.
This weather station will measure temperature, solar radiation, relative humidity, precipitation, leaf wetness, wind direction, and wind speed. Data is available through the ICC website at no cost.
Strategically, this weather station will contribute to control cinder in the littoral of Santa Rosa, where shrimp and salt businesses operate and represent an important economic activity.
About World Meteorological Day
Weather-ready, climate-smart is the theme of this year's World Meteorological Day on 23 March.  It highlights the need for informed planning for day-to-day weather and hazards like floods as well as for naturally occurring climate variability and long-term climate change.
The World Meteorological Organization selected the slogan because it underlines the central role of national meteorological services in decisions as diverse as when to carry an umbrella, whether to seek shelter or evacuate from a major storm, when to plant and harvest crops, and how to plan urban infrastructure and water management decades ahead.
"Now more than ever, we need to be weather-ready, climate-smart and water-wise," said WMO Secretary-General Petteri Taalas.
"This is because the ever-growing global population faces a wide range of hazards such as tropical cyclone storm surges, heavy rains, heatwaves, droughts and many more. Long-term climate change is increasing the intensity and frequency of extreme weather and climate events and causing sea level rise and ocean acidification. Urbanization and the spread of megacities means that more of us are exposed and vulnerable," he said.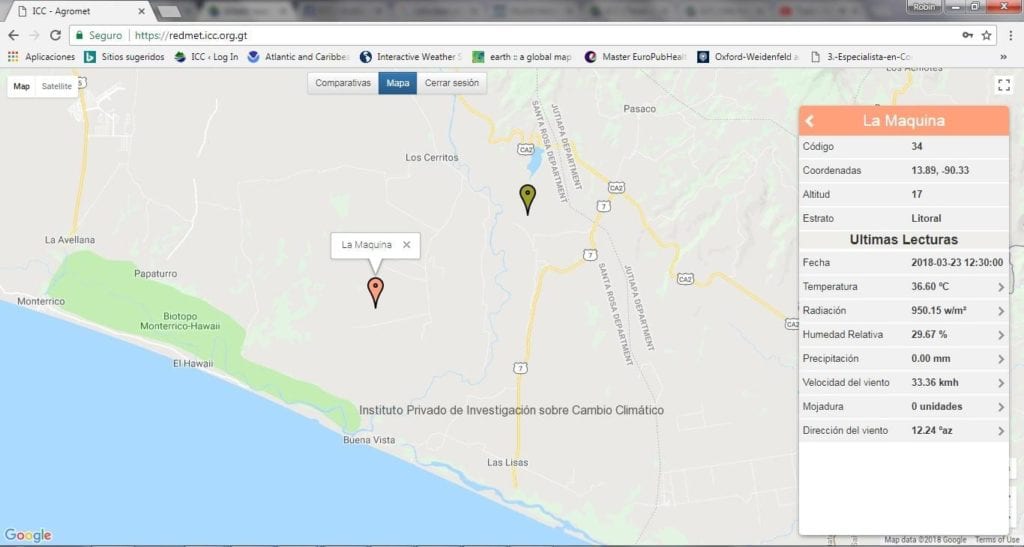 Location of the La Maquina weather station.