The Climate and Hydrology Research Program of the ICC, informs that the low pressures system that has been monitored has strengthened to become "Selma" tropical storm, and that its trajectory is to the south east of Guatemala and south west of El Salvador. This cyclonic system will intensify rains as of Friday afternoon and throughout the weekend, mainly in southern Guatemala.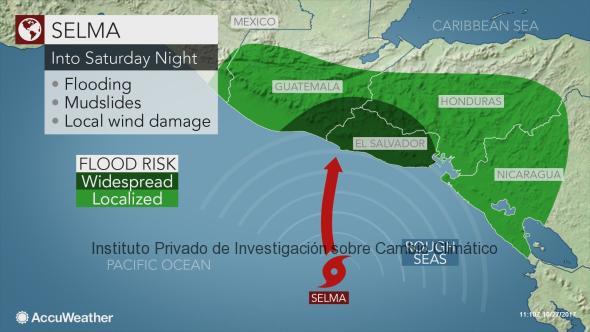 Image of the trajectory and flood risk areas. Source: AccuWeather.
Its trajectory will cause rains to occur in the south region of Guatemala, even causing floods and storm tides towards the coast line of El Salvador and Guatemala. Its interaction with the high pressure system in the north of the country will allow wind to increase its speed in Guatemala's southern region on Friday and Saturday, reaching speeds higher than 40 mph in Escuintla, Jutiapa and Santa Rosa.
Another low pressure system is being monitored in the Atlantic coasts of Nicaragua, which has an 80% chance to get stronger and become the tropical storm 18.