Due to the influence of a high pressure system, the north wind will moderately accelerate during the week, as it will also allow temperatures to slightly decrease in the upcoming days.
For the central midlands the forecast includes fog in the first hours of the morning, sunny during daytime, cold at nights and early mornings. The north wind will slightly accelerate as of Tuesday (35 to 45 km/h). Maximum temperatures in Guatemala City could reach between 23.0 ºC to 25.0 ºC, central and western highlands between 23.0 °C to 26.0 ºC. Minimum temperatures could reach 11°C to 13°C in Guatemala City, western highlands from 3.0°C to 5.0°C.
For the Pacific the forecast includes clear skies in the mornings and nights, warm and misty during the day, cloudy skies in the afternoons with low chances of scattered rains through the south west. South east light wind changing to north east. Maximum temperatures can reach up to 35°C; minimum could be between 17°C to 19°C.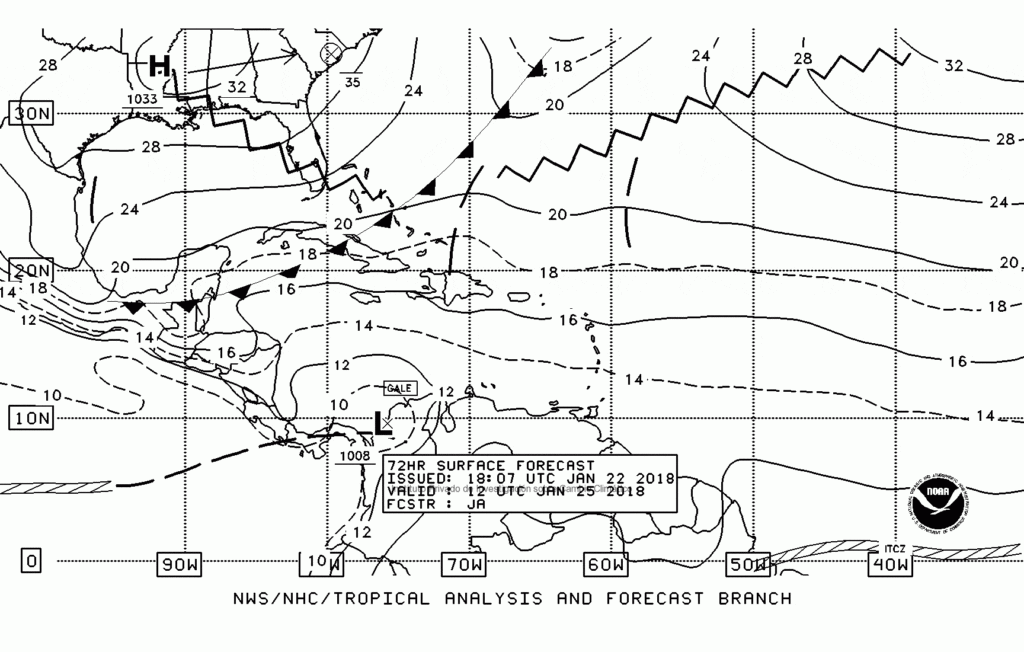 Synoptic map, forecast for Wednesday at 6 pm, NOAA, 2018.
The graph shows the high pressure atmospheric system (H) which influences in the formation of a cold front for this week, that will cause temperatures to slightly decrease and winds to accelerate from light to moderate.